Women Empowerment Program

The Program
Women Empowerment in India is still a distant dream. India is becoming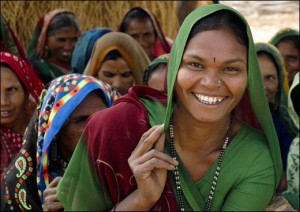 economically and technologically strong day by day but women in India are still far away from true emancipation. It's an old saying that goes like this: you can tell the condition of the nation by looking at the status of women. Women in India are still suffering discrimination and injustice in all stages of their life. According to Mahatma Gandhi, if you educate the man, you educate individual, but if you educate a woman you educate an entire family. We are running a center where we educate and train women. Every day the women who come to our center get basic education and training program. We are training women in henna paint, drawing & stitching work. After getting free training course from our center they can find a good job or can start their own business as this type of job is very popular in India. This project was created to offer an income-generative source for women. Along with this, we also offer 1 to 1 and group counseling with all the women in our center.
Project Fact File
Project Duration: Minimum 1 week stay up to 4 months.
Project Fees: $340 for 1 week; $160 per week thereafter. No Application fees required. For more information about our fees please visit Volunteer Program Fees Page.
Project Availabilities: All year round –Dates are flexible you can choose your own start and finish date.
Requirements: We don't need any qualification for this project. Volunteers must have lots of love & enthusiasm for the project.
Location: Jaipur, India.
Project Activities: English Teaching Classes, Health Awareness program, Personality Development for women & Income generating activities.
Working Days: Monday-Friday. On Weekend we arrange sightseeing tours for volunteers to visit famous tourist spots in Jaipur.
What is included: Arranging your Programme, Pre-departure information and support by email/phone, Arrival pickup from Jaipur, Program relevant materials, Accommodation with Indian Host Family, 3 Meals ( Breakfast, Lunch & Dinner ), Transportation facility for project site, Weekend Sightseeing's Tours and 24 hours of admin support.
What is not included: Visa, Flights, Internet, Telephone Calls, Monuments/Sightseeing Entry Fees, Insurance Cover, and Airport Drop off.
Work for Volunteers
Working towards women empowerment enables you to support women in their pursuit of healthy and sustainable livelihoods. Women's groups provide a forum for issues such as family health, women's rights, and access to resources, income generation, and other challenges women face in their daily lives. Volunteers have the opportunity to exchange ideas, collaborate in ongoing projects. You can also provide support in many other ways, depending on your skills and interests and the needs of the local community.
Recently we have brought changes to our Women Empowerment Project. We have mixed the women empowerment program with the work with children of rural areas in Jaipur. So the volunteers have the opportunity to work with both women and children in 1 project. Both of these projects run in the rural area in Jaipur. We are running women program at our one of NGO partner where we offer education and training program to women.
You will be involved in the activities like:
Teach English language to young women
Education (Literacy) awareness work
Women Health awareness program
Income generative skills training
Awareness raising activities
We invites all Interested National & International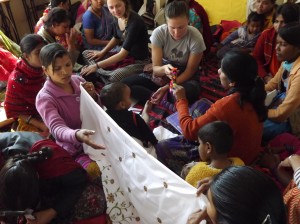 volunteers to be a part of our Women Empowerment Program. Come with expertise and help women learn or come with no expertise and learn together. Your small effort can make a big difference to life of women. We do however request our volunteers to be flexible! It takes time for you to learn about the local women before you start your actual work and you need patience for that. Working in the community is not like a computer program, which is preset; you click and it works. You will be working with women of a totally different culture and lifestyle. Your steps will work slowly but SURELY!
Skills Required for Program
There is no specific skill requirement to join the volunteering program. But volunteers who love and are passionate about helping people who are in need & also like to learn about the culture/life of the people in the country can join the program.
Note:Sometimes women in the centre not showing their interest to attend English Language Program if that happen volunteers will be interact with the other social activities at the centre. The project is now mix with teaching children of rural areas in Jaipur. So the volunteers have the opportunity to work with both women and children in 1 project. Most of the children which came to our centre are the kids of these women.Read Our –Volunteers Stories & Reviews about the Program.
Arrangement of Room, Food & Transportation
VWI makes arrangements for room, food and transportation for the volunteers, from the first day of the volunteer's arrival in Jaipur, India. Volunteers will be living with the Indian Host Family. You will be having your own room at the host family house which can be shared by the same gender volunteer in the program. Our host families are carefully screened and selected based on VWI requirements. Host families are experience in the realm of hosting international travelers from last 10 years. The accommodation and meals provided at the host family will be basic. You will be getting 3 Meals per day (Breakfast, Lunch and Dinner), traditional but very nutritious. The meals serves at the accommodation are the everyday meals which are eaten by the Indian Families. This is how the program has made to make you feel and Live Like a Local. However if you are not able to adjust with the Indian meals or need more nutrition/protein/special diet in your meals you can arrange by your own from the near by local market. Staying with Host family will give you the opportunity to learn about Indian Life, meet the locals, try local food, speak local language and make yourself to immerse in local customs and traditions. The host family members are able to communicate in English and are very friendly with volunteers. There is internet connection facility also available at Host Family. You will have a very good access through computer & by Wi-Fi access. We also arrange transportation facility for volunteers which will everyday pick you to project site and drop to your home when you finish work. You will have everyday auto-rickshaw (tuk-tuk) ride for Transportation.
You will be required to pay extra direct to the host family for Internet Connection (200 INR weekly) and mineral water bottle (20 INR per bottle)
What you will gain from this project
>A memorable working hours with the community for the development of women in India.
>An enormous satisfaction from inside as you worked who have your needs.
>An unforgettable memory by spending time in India.
>Opportunity to learn Indian culture, language and their traditions.
>An entry in your CV as you have worked in under-developed country that will boost your profile in job market.
>Life time member with VWI after completion of your project.
Volunteer Week Detail
Day 1: Today you will arrive in Jaipur. Our VWI staff member will pick you up from your arrival destination & welcome you. After picking you up, we will transfer you to the Host Family accommodation. We will introduce you to the host family members and we will guide you through the accommodation facilities and the things which are near. You will also be introduce about the project, your everyday working schedule, rules and regulation of volunteering, what to do & dont's. which can be useful to you throughout your trip & guide you to the facilities which a traveler needs in new place.
Day 2 to Working days : You will be transfer to your project site. Your work will covered there every day by Providing Education facilities to women, English Teaching Classes, Health Awareness program, Personality Development for women, Income generating activities & took Computer Education Class. Volunteers' working days will be for 5 days per week Monday to Friday.
Weekends: The weekends are free for you to relax and enjoy Pinkcity. Every weekend we cover sightseeing of the Beautiful Historical places, Cultural places & programs with our VWI staff team. Volunteers have opportunity to meet with other volunteers also from other projects sites as everybody gets together on these days. However there are several other side trips that you can join which will greatly enhance your experience of Desert Place in Rajasthan, India.

Contact Us –For More Detail & Query for Program.
FAQ – Frequently Asked Question we receive about our volunteer placements.
Click to see our other Programs.