Teaching Volunteer Work India
About Program
Education is necessary for every child in order for society and communities to develop. Recently the Indian Government instated a law making it necessary for every child to get an education, but many children leave school so there is a need for assistance in the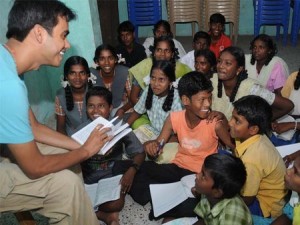 schools located in rural and remote areas. We don't need our volunteers to speak native English, there is no need for TOEFL/IELTS certification. The project runs in the rural area village near Jaipur. We already have teachers in the school which teach English to children but they are not very good English speakers and their pronunciation is very poor. Helping with English teaching you can greatly enhance the learning experience and the future prospects of hundreds of children and adults. There are also not much extra curricular activities like sport, drama or music lessons for example. Because such things are not organized in the school it makes children not be interested in attending school, they get bored because of the lack of extracurricular activities, so we encourage volunteers to organize such activities. We decided to bring International volunteers to help so that a solid base of education at the primary level is constituted and the children can be prepared to accept the challenge of higher education fearlessly in the future.
Work for Volunteers
Volunteering work will include teaching English, support or help for teachers in teaching methods, helping with improving pupil's communication skills, drawing-painting, music, dancing with students, making sure of regular attendance of children through motivating their families by visiting regularly, creating a more child-friendly environment in the schools through decorating/painting them. Your help will make an enjoyable and creative environment for children. Volunteering work continues to motivate children to pursue education. This will help children develop skills and acquire pleasant experiences. Volunteers can assist in different areas of education like English, mathematics, arts and sports. Since volunteering activities are organized in government/private schools where it exists an acute shortage of teachers, the volunteers are therefore expected to focus mainly on the syllabus being taught in schools.
Skills Required for Program
There is no specific skill requirement to join the volunteering program. But volunteers who love and are passionate about helping people who are in need & also like to learn about the culture/life of the people in the country can join the program.
Arrangement of Room, Food & Transportation
VWI makes arrangements for room, food and transportation for the volunteers, from the first day of the volunteer's arrival in Jaipur, India. Volunteers will be living with the Indian Host Family. You will be having your own room at the host family house which can be shared by the same gender volunteer in the program. Our host families are carefully screened and selected based on VWI requirements. Host families are experience in the realm of hosting international travelers from last 10 years. The accommodation and meals provided at the host family will be basic. You will be getting 3 Meals per day (Breakfast, Lunch and Dinner), traditional but very nutritious. The meals serves at the accommodation are the everyday meals which are eaten by the Indian Families. This is how the program has made to make you feel and Live Like a Local. However if you are not able to adjust with the Indian meals or need more nutrition/protein/special diet in your meals you can arrange by your own from the near by local market. Staying with Host family will give you the opportunity to learn about Indian Life, meet the locals, try local food, speak local language and make yourself to immerse in local customs and traditions. The host family members are able to communicate in English and are very friendly with volunteers. There is internet connection facility also available at Host Family. You will have a very good access through computer & by Wi-Fi access. We also arrange transportation facility for volunteers which will everyday pick you to project site and drop to your home when you finish work. You will have everyday auto-rickshaw (tuk-tuk) ride for Transportation.
You will be required to pay extra direct to the host family for Internet Connection (200 INR weekly) and mineral water bottle (20 INR per bottle)
Project Fact File
Project Duration: Minimum 1 week stay up to 4 months.
Project Fees: $340 for 1 week; $160 per week thereafter. No Application fees required. For more information about our fees please visit Volunteer Program Fees Page.
Project Availability: All year round – Dates are flexible you can choose your own start and finish date.
Requirements: We don't need any qualification for this project. Volunteers must have lots of love & enthusiasm for the project.
Location: Jaipur, India.
Project Activities: Teaching English in school, Support & help teachers in their methods of teaching, Work on Pronounciation & Communication skills of children,Motivating children families for thier regular attendance in class & promoting basic hygiene awareness to children and thier families.
Working Days: Monday-Friday. On Weekend we arrange sightseeing tours for volunteers to visit famous tourist spots in Jaipur.
What is included: Arranging your Programme, Pre-departure information and support by email/phone, Arrival pickup from Jaipur, Program relevant materials, Accommodation with Indian Host Family, 3 Meals ( Breakfast, Lunch & Dinner ), Transportation facility for project site, Weekend Sightseeing's Tours and 24 hours of admin support.
What is not included: Tourist Visa, Flights, Internet, Telephone Calls, Monuments/Sightseeing Entry Fees, Insurance Cover, and Airport Drop off.
What you will gain from this project
>A memorable time with children being a part of their life.
>An enormous satisfaction from inside as you worked who have your needs.
>An unforgettable memory by spending time in India.
>Opportunity to learn Indian culture, language and their traditions.
>An entry in your CV as you have worked in under-developed country that will boost your profile in job market.
>Life time member with VWI after completion of your project.
Volunteer Week Detail
Day 1: Today you will arrive in Jaipur. Our VWI staff member will pick you up from your arrival destination & welcome you. After picking you up, we will transfer you to the Host Family accommodation. We will introduce you to the host family members and we will guide you through the accommodation facilities and the things which are near. You will also be introduce about the project, your everyday working schedule, rules and regulation of volunteering, what to do & dont's. which can be useful to you throughout your trip & guide you to the facilities which a traveler needs in new place.
Day 2 to working days: Get ready to meet your lovely children which you will be teaching.Our project taxi will come to pick you from your accommodation in Jaipur and bring you at the program site. You will be met also with your program coordinator & local staff which will guide you all about the things at the center, what to do, how to do & make lesson plans for kids at the center.
Weekends: The weekends are free for you to relax and enjoy Pinkcity. Every weekend we cover sightseeing of the Beautiful Historical places, Cultural places & programs with our VWI staff team. Volunteers have opportunity to meet with other volunteers also from other projects sites as everybody gets together on these days. However there are several other side trips that you can join which will greatly enhance your experience of Desert Place in Rajasthan, India.


Contact Us –For More Detail & Query for Program.
FAQ – Frequently Asked Question we receive about our volunteer placements.
Click to see our other Programs.