Orphanage Volunteer Work India
The Program
The Children placed in Orphanage really need love & care, just like our children. Every child needs love, kindness, attention and care. When the little human beings are born, they should be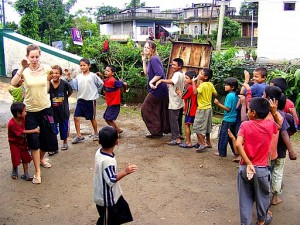 surrounded by loving people. But unfortunately, life dictates its harsh laws, and many children do not have anyone close who would care for them. Orphan children, like all children in the world deserve to be happy. Due to various circumstances, they began their lives with sadness in their eyes, it's through customs and traditions that children of different sexes are not provided with equal treatment; ignorance among young people about contraception and about the consequences of unwanted pregnancy, rape, and also severe disease of children, are causes for which parents abandon children; also, death of relatives is a cause for kids to become orphans – there are many inevitable realities of society. But also, almost as old as the concept of orphan is, and as old society is, there's also the concept of volunteerism. Orphanage Volunteer Work is a special view of life; it's all very bright and good. There were always people who saw a higher purpose in serving others for the grater good. Therefore, we need "good people" or volunteers, who will give kindness and necessary care to orphans. The purpose of our program is to find people that are able and willing to help children in orphanages.
Work for Volunteers
In our orphanage program volunteers will be included in some of the daily chores. For example they will teach them basic English and Mathematics, help them in their daily school homework, organize health awareness program, the importance of sanitation and aid, like the importance of brushing their teeth, taking showers etc; they will also organize fun games for them that involve drawing, singing, dancing, and other creative educational and extracurricular activities; they will help with work in the kitchen, like cooking and distribution of food. Volunteers will participate in the daily lives of children, taking care of them, striving to develop their qualities, and give them happy moments in life. Volunteers will work with children aged 0 to 18 years. This is a very tender age when a child is formed as an individual and absorbs everything like a sponge, so he needs a lot of attention, care and energy and, of course, a kind heart, patience and understanding. As a Volunteer you can also be involved in administrative works of the orphanage and Other activities depending upon the time, situation, and need.
Skills Required for Program
There is no specific skill requirement to join the volunteering program. But volunteers need to love and be passionate about helping those who are in need, and also they have to like to learn about the culture/life of the people in the country.
Arrangement of Room, Food & Transportation
VWI makes arrangements for room, food and transportation for the volunteers, from the first day of the volunteer's arrival in Jaipur, India. Volunteers will be living with the Indian Host Family. You will be having your own room at the host family house which can be shared by the same gender volunteer in the program. Our host families are carefully screened and selected based on VWI requirements. Host families are experience in the realm of hosting international travelers from last 10 years. The accommodation and meals provided at the host family will be basic. You will be getting 3 Meals per day (Breakfast, Lunch and Dinner), traditional but very nutritious. The meals serves at the accommodation are the everyday meals which are eaten by the Indian Families. This is how the program has made to make you feel and Live Like a Local. However if you are not able to adjust with the Indian meals or need more nutrition/protein/special diet in your meals you can arrange by your own from the near by local market. Staying with Host family will give you the opportunity to learn about Indian Life, meet the locals, try local food, speak local language and make yourself to immerse in local customs and traditions. The host family members are able to communicate in English and are very friendly with volunteers. There is internet connection facility also available at Host Family. You will have a very good access through computer & by Wi-Fi access. We also arrange transportation facility for volunteers which will everyday pick you to project site and drop to your home when you finish work. You will have everyday auto-rickshaw (tuk-tuk) ride for Transportation.
You will be required to pay extra direct to the host family for Internet Connection (200 INR weekly) and mineral water bottle (20 INR per bottle)
Project Fact File
Project Duration: Minimum 1 week stay up to 4 months.
Project Fees: $340 for 1 week; $160 per week thereafter. No Application fees required. For more information about our fees please visit Volunteer Program Fees Page.
Project Availabilities: All year round –Dates are flexible you can choose your own start and finish date.
Requirements: We don't need any qualification for this project. Volunteers must have lots of love & enthusiasm for the project.
Location: Jaipur, India.
Project Activities: Teach them Basic English & Mathematics, Help them in thier school home work,Organize fun games for them & involve in extra activities like drawing, singing, dancing and other extra curricular activities, tell them about importation of sanitation and aid, help with work in kitchen like cooking and distribution of food.
Working Days: Monday-Friday. On Weekend we arrange sightseeing tours for volunteers to visit famous tourist spots in Jaipur.
What is included: Arranging your Programme, Pre-departure information and support by email/phone, Arrival pickup from Jaipur, Program relevant materials, Accommodation with Indian Host Family, 3 Meals ( Breakfast, Lunch & Dinner ), Transportation facility for project site, Weekend Sightseeing's Tours and 24 hours of admin support.
What is not included: Visa, Flights, Internet, Telephone Calls, Monuments/Sightseeing Entry Fees, Insurance Cover, and Airport Drop off.
What you will gain from this project
>A memorable time with children being a part of their life.
>An enormous satisfaction from inside as you worked who have your needs.
>An unforgettable memory by spending time in India.
>Opportunity to learn Indian culture, language and their traditions.
>An entry in your CV as you have worked in under-developed country that will boost your profile in job market.
>Life time member with VWI after completion of your project.
Volunteer Week Detail
Day 1: Today you will arrive in Jaipur. Our VWI staff member will pick you up from your arrival destination & welcome you. After picking you up, we will transfer you to the Host Family accommodation. We will introduce you to the host family members and we will guide you through the accommodation facilities and the things which are near. You will also be introduce about the project, your everyday working schedule, rules and regulation of volunteering, what to do & dont's. which can be useful to you throughout your trip & guide you to the facilities which a traveler needs in new place.
Day 2 to working days: Your work will covered there every day by Teach them Basic English & Mathematics, Help them in thier school home work,Organize fun games for them & involve in extra activities like drawing, singing, dancing and other extra curricular activities, tell them about importation of sanitation and aid, help with work in kitchen like cooking and distribution of food throughout your working days.
Weekends: The weekends are free for you to relax and enjoy Pinkcity. Every weekend we cover sightseeing of the Beautiful Historical places, Cultural places & programs with our VWI staff team. Volunteers have opportunity to meet with other volunteers also from other projects sites as everybody gets together on these days. However there are several other side trips that you can join which will greatly enhance your experience of Desert Place in Rajasthan, India.


Contact Us –For More Detail & Query for Program.
FAQ – Frequently Asked Question we receive about our volunteer placements.
Click to see our other Programs.